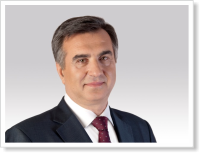 Dear Colleagues,
     We are happy to present you the first issue of electronic scientific journal of the Kharkiv National Medical University "Inter collegas". The edition is published on the eve of the 210th anniversary of alma mater, and its main objective is to present scientific achievements of the staff and students of our university, as well as our colleagues from other educational and scientific institutions.
    The language of the new edition is English. This is due to the fact that internationalization and mobility in science and education are now the most pressing than ever.
    The special background for the advent of our magazine is the coming into force of the revolutionary Law of Ukraine "On Higher Education". This law opens new prospects not only in education and science, but also in the successful implementation of all plans for the development of our country.
    To start something new is always gratifying and exciting. I hope your participation in the life of the magazine will be a reliable guarantee of our mutual success. 
Rector of the Kharkiv National Medical University,
corresponding member of National Academy of Medical Sciences of Ukraine,
Doctor of Medical Sciences,
Professor Vladimir Lesovoy