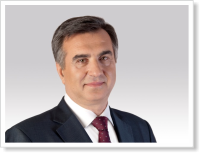 Dear Colleagues,
     We are happy to present you the electronic journal of  Kharkiv National Medical University "Inter Collegas". It is a multidisciplinary peer-reviewed journal in the English language for medical practitioners and healthcare specialists and its main objective is to present scientific achievements of the staff and students of our university, as well as our colleagues from other educational and research institutions. We accept research articles, reviews, as well as case reports and discussions.
To ensure a high quality of the publications we have invited famous international experts to be the members of the editorial board. We are really grateful to them for their efforts and time they decided to devote to our journal.
The first issue of "Inter Collegas" was published on the eve of the 210-th anniversary of our University. In May 2016 the journal was recommended by the Ministry of Education and Science of Ukraine as a professional journal to publish the papers in the field of medicine. You see that our journal is rather young. However, as you can see from the issues that have already been published, we are in a serious mood, ready to work hard and hope to make it a highly regarded, worth reading and publishing in edition.
We are sure you publication in "Inter Collegas" will be a reliable guarantee of our mutual success. 
Editor-in-chief
Vladimir Lesovoy
MD, PhD, Professor,
Corresponding member of National Academy
of Medical Sciences of Ukraine,
Rector of Kharkiv National Medical University